Exams Information
Guidance, Timetables, Dates & Results

---
This section provides downloads for guidance and important information as issued by the Joint Council for Qualifications.
Please scroll through the Exam related documents below and read JCQ Guidance for Students and Parents.
2023 - 2024 Exam Dates
Year 11 Mock Exams
Autumn Term 2023
Tuesday 21st November 2023 - Monday 4th December 2023
Spring Mock Exams
Monday 11th March 2024 - Friday 22nd March 2024
Year 11 GCSE EXAMS - Summer 2024
| | |
| --- | --- |
| GCSE Exams (written papers) start | Monday 13th May 2024 |
| GCSE Exams finish | Wednesday 26th June 2024 |
| Contingency Day | Wednesday 26th June 2024 |
| GCSE Results Day | Thursday 22nd August 2024 |
Students should remain available until Wednesday 28 June 2023 should examinations need to be rescheduled.
Year 10
| | |
| --- | --- |
| Year 10 Mock Examinations | 2024 TBC |
Results Day
| | |
| --- | --- |
| GCSE | Thursday 24th August 2023 |
Exam Timetable
This section provides PDF downloads for timetables throughout the year when they are confirmed. It will include GCSE .
Exam Handbook
The summer 2024 exams may seem like a long way off at the moment, but we wish to share some important information with you to avoid any possible issues next summer. During the spring term, students will be given their individual exam timetables which will highlight when their final exam will take place. The summer written exam period will run from Monday 13th May to Wednesday 19th June 2024. However, for the summer 2024 exam series, one "contingency" exam day (Weds 26th June) and two afternoons (Thurs 6th & 13th June) have been arranged by the examination awarding bodies which all students need to be aware of. These contingency days for GCSE and/or A Level (or equivalent) examinations have been put in place "in the event of widespread, sustained national or local disruption to examinations during the June 2024 examination series."
The dates that have been set aside as the contingency days are Thursday 6th June and Thursday 13th June 2024 (afternoons only), and Wednesday 26th June 2023 (all day). This means that all exam candidates must be available to sit exams from the date of their first exam until Wednesday 26th June 2024. This decision is not a school decision and applies to all candidates in all schools.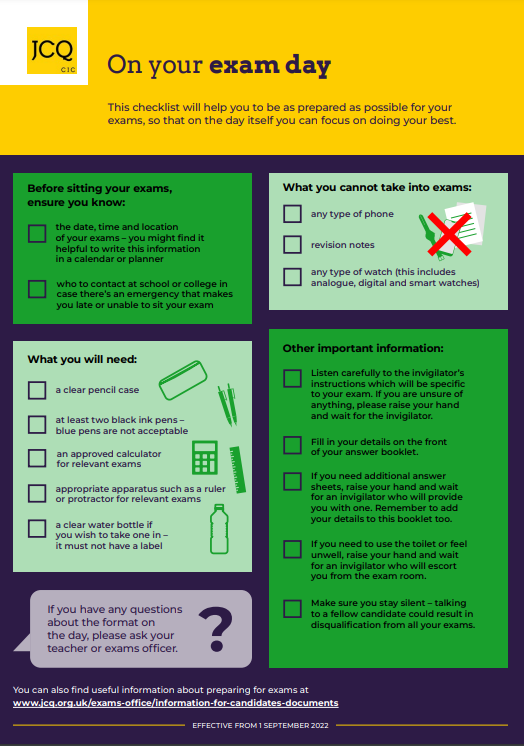 ---
GCSE Results Day - Thursday 24th August 2023
GCSE Students
If you have concerns about your results on results day you should speak to the Head of Department or one of your teachers who will be able to help you.
If you think there has been a mistake in the marking of your exams, you should let the school know. The school can ask the exam board to check how your exam was marked.
The School can also ask, on your behalf, to see your marked exam paper. (The form that needs to completed for this can be found at the bottom of this page). They can do this before deciding whether to request a review of marking to help to identify whether they think a mistake was made when your work was marked. (If you decide to request a remark, the form for this can be found at the bottom of this page).
If the exam board does not find any mistakes, your mark will not change, and therefore your grade will not change. If the exam board finds a mistake was made, your mark could go up or down. If your mark changes, this could mean that your grade stays the same or goes up or down.
An exam board cannot give you extra marks just because your mark was close to a grade boundary or because you did not get the grade your centre predicted.
The exam board will charge fees for reviews of marking if your grade does not change. There will be no fees if your grade changes following a review. Your centre will be able to tell you about any possible fees that you may need to pay.
If the school or you still have concerns after a review of marking or moderation, the review decision may be challenged through the exam board's appeals process. The possible outcomes of an appeal are the same as at the review of marking or review of moderation stage, explained above. The school will be able to tell you about any possible fees that you may need to pay.
Post Results Services Explained
If you are unhappy about an exam result you can ask for a clerical check or a review of marking or you can request that a copy of your marked script is returned.
All requests for post-results services must go through the Exams Officer here in school who will make requests to the awarding bodies. Students and parents cannot contact the awarding bodies themselves. See below for fees.
Grade protection does not apply to any post-results service (clerical check or review of marking) which means that candidates' marks and subject grades may be lowered, confirmed, or raised as a result.
What is a clerical check?
A clerical check (Service 1) of a marked paper will ensure:
• All the pages were marked
• All the marks were counted
• The result matches the marks on the paper.
In most cases, you would expect to receive the outcome of these requests within a few days. A clerical check will confirm your original raw marks have been converted correctly to UMS marks. You can request a photocopy of your checked script.
What is a review of marking?
A post-results review of marking (Service 2) is carried out to ensure that the agreed mark scheme has been applied correctly. Reviewers here will not remark the script, they will only act to correct any errors identified in the original marking. This service includes the checks detailed in the clerical checks (service 1).
What is access to scripts?
You can request for access to your exam scripts. This is to help you decide whether to request a review of marking (Service 2) for GCSEs. The DEADLINE for this service is 12 noon on the 8th September. We will be unable to process any requests for access to scripts after this time.
Viewing your script could save you money if you are thinking about a review of marking. This service is available for all GCSE subjects for Edexcel and OCR but is not available for all AQA subjects – it is currently only offered for English and Maths. Scripts will be returned before the deadline for review of marking.
• Non-priority scripts (original): scripts to support teaching and learning may be requested for all GCSE qualifications.
GCSE Certificates
Please note that we only hold GCSE certificates for 12 months from receipt in November. After a 12-month period, all uncollected certificates are destroyed as per the exam board regulations. You will be notified of collection arrangements via email and through the school website.