Art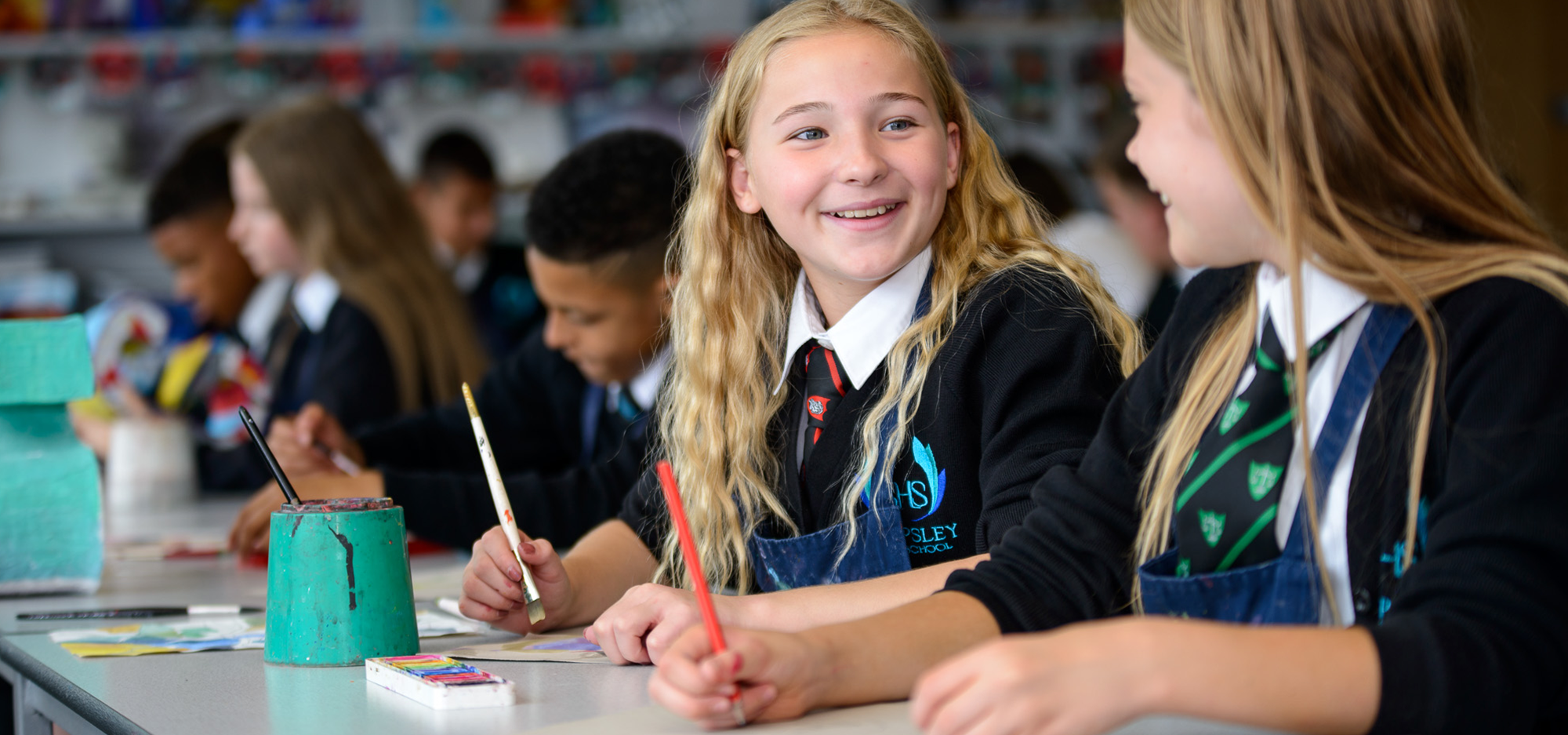 Head of Department
Ms L Montague
Email: lmontague@stopsleyhighschool.co.uk
Course Overview
The Art department is committed to offering a stimulating environment that enables our students to work in a wide range of art practices. We believe that Art is a vital part of a students education and supports the development of the whole student.
There are facilities for painting, drawing, textiles, sculpture, printmaking and digital photography. Observational and practical skills are taught in structured lessons. A range of extracurricular activities and clubs support and complement students classroom learning.

Key Stage 3
Year 7
Students develop their understanding and experience of the key elements of art through a range of lessons designed to build and extend their foundation knowledge. Students are also introduced to the work of other artists and conduct a range of written research and analysis to build their use of art vocabulary, in addition, students are encouraged to discuss their own opinions and explore their visual understanding.
Year 8 & 9
Students are taught in mixed ability groups, building on their previous skills, using a range of starting points. Students are encouraged to develop personal responses through research and planning of outcomes. As well as experimenting with a wide variety of drawing and painting media and techniques, students have the opportunity to experience 3D work. In Year 9 students begin to work in the style of the GCSE course, focusing on developing and honing key skills as well as producing more personal outcomes.
Key Stage 4
The GCSE course explores both practical and critical study, in which creative work in a variety of media is informed by the study of works of art, craft and design from different periods and different societies.
Students may opt for either GCSE Photography and/or GCSE Fine art, which are both vibrant and exciting courses with a strong emphasis on practical work and the key elements. Recent specification changes mean that students must explore their journey through written analysis and annotation alongside their practical work.
Assessed coursework is carried out throughout the two years covering a wide range of skills and media. Teachers have a wealth of knowledge in the following media; photography, digital imaging, printing, etching, 3D and clay work are all areas of specialism that can be covered. Students have an opportunity to make personal outcomes and are encouraged to develop their strengths in their preferred media. Students work on large A2 boards to encourage different scales of work. By visiting art galleries and exhibitions they gain the valuable experience of seeing work at first hand. The course culminates in a celebratory exhibition of all students' work during the annual Stopsley Showcase.
Exam Board
AQA: Fine Art 8202 and Photography 8206
https://www.aqa.org.uk/subjects/art-and-design/gcse/art-and-design-8201-8206
Progression
Both courses offered, support students going on to study a range of subjects and options such as Fashion, Marketing, Art and design, Photojournalism and a host of media best subjects. Many students go on to study A levels or BTEC's within the subject and a number of students have been very successful in Higher education.