Hate Crime Awareness Week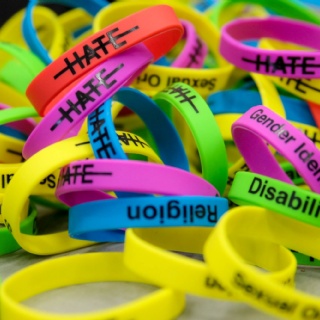 Stopsley students raising awareness of hate crime
Stopsley High School was delighted to welcome Bedfordshire Police and the Anne Frank Trust on Wednesday 17th October to launch their joint venture film on anti-hate crime.
This was the culmination of two years working with the Anne Frank Trust and Bedfordshire Police in which Stopsley students have become involved in raising awareness of hate crime using the story of Anne Frank. Students have also learned about restorative justice and are now Anne Frank Ambassadors and Community Cohesion Ambassadors, respectively.
The anti-hate crime film, starring two of Stopsley's students, will be sent to all middle, upper and high schools across Luton and Bedfordshire. This was part of the anti-hate crime week initiative. To showcase the students' continued commitment, we invited BBC Look East and Anglia News to Stopsley High School on Wednesday 17th October to cover the unfolding story and the journey the students have been on.
We are unbelievably proud of the commitment, drive, passion and maturity of all of our ambassadors and will continue to encourage and inspire them as they endeavour for positive change. We also continue with our legacy journey with the Anne Frank Trust ensuring that community cohesion is in the fabric of our school community.