"The Candidate" Vauxhall Visit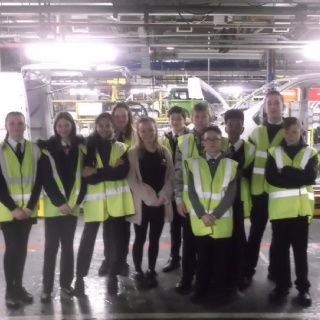 38 Year 9 students had the chance to attend a full day workshop organised and delivered by Vauxhall Motors Luton Plant. The day involved the students competing as teams to get a job for their team leader who is a current Vauxhall employee.
The Day started with a visit from the factory CEO who spoke to the students about the plant and the company before they had a tour of the Body shop and the General Assembly line. The groups then had a session on CV writing, before taking a Psychometric Test and looking at ways to answer questions in an interview. After lunch the groups had "hot dating" interviews where they had 3 minutes to impress the staff from Vauxhall's HR department. The final tasks were practical, groups had to race to correctly assemble parts on a van, this included fitting the brake light, sun visor, and cup holders to name just a few parts. The final task was to fit full sized cut outs of people to their job. This made for interesting discussion and the start of a beautiful friendship between Josh McGillicuddy and Dr Alan.
Well done to the winning team of Malo Hutchinson, Dylan Leitch, Catherine Sadlier and Indy Downing!