Anne Frank Trust Exhibition 2017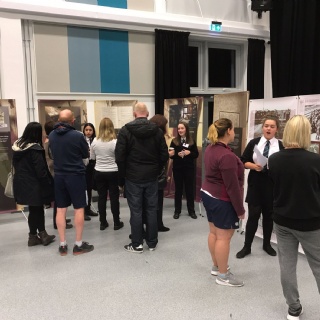 Last week a number of students took part in the Anne Frank Exhibition 'A History for today'
The week started off with a full on training day which was so much fun. We watched a short documentary on Anne Frank's life and how she lived. Later on through the day James from the Bedfordshire police came in and spoke to us about hate crimes. He told us that over the weekend that there had been 11 reported hate crimes. This shocked us all because we didn't realise how much of an issue it was.
Nearer to the end of the day we were introduced to our sections of the tour and how we were supposed to lead students around for the next four days. We spent this time learning facts, and making sure we became experts on the section.
On Tuesday night we opened our doors to many members of the public who came and looked around the exhibition. We answered some questions and explained Anne's story to many adults. Also on the night we had a dance performance from the Year 10 GCSE dance group, a reading and a speech from Tara Mcquillan and Chelsea Tiso, some music from the Luton Youth Jazz Orchestra, a moving speech from Cerys Wrigley and to end a few words from Anne's Diary read by Daniel O'Mahony.
For the rest of the week we spent touring various classes around the exhibition and helping to open students and teachers eyes on how the story was still relevant and how it can teach us about hate crimes and discrimination today.
We were asked many interesting and eye-opening questions that not only helped them but helped us.
Some Quotes from our tour guides:
'I have gained so much confidence throughout this experience'
'It really put into perspective what effect we can have on people'
'This has inspired me'
We would like to say a few thankyou's to Val and Dianne who came from the Anne Frank Trust to teach and help us through the week. We also thank Mr Atkinson for putting this on for us and helping us develop our skills. We also want to thank all the tour guides that took part.
Written By Daniel O'Mahony, Chelsea Tiso and Elizabeth Carpenter