Aiming High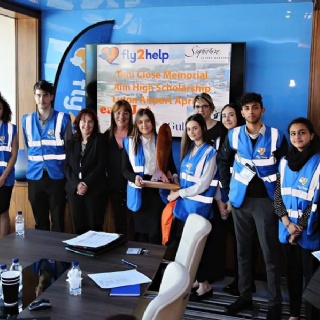 Ewan Theron takes part in the Aim High Programme
I spent the first week of the Easter break at London-Luton Airport on the Aim High Scholar programme. This programme was run by a charity called Fly2Help. The purpose of the week was to give us behind-the-scenes exposure to the real world of aviation and the potential careers within the industry.
During the week we visited Luton Airport-based companies such as Easyjet and Gulfstream. We also visited the Air Traffic Control Tower and Cranfield Airport to see an aircraft called FAAM used for scientific research relating to weather. As a bonus, we had the opportunity to fly in a four seater aircraft taking off from Cranfield Airport. We also visited the world's largest aircraft, an airship called the Airlander, held in the enormous Cardington hanger near Bedford. Another visit was to RAF Henlow where we were briefed on the latest safety equipment they test for fighter pilots. We had a very interesting visit to Shuttleworth, where the world's oldest working aircraft is kept.
On the last day we had a go in a de-icing truck which was a whole heap of fun. Through all this excitement the director of the programme asked us to take notes and he split the five days between the ten scholars so each person had either a morning or evening to take down key information such as emails and addresses of the presenters. At the end of the week we had to present a brief summary of our morning or afternoon to our parents and other family members.
I have enjoyed meeting people who have the same interests as me, and meeting some of aviations pioneering companies and seeing what aviation has to offer.
Ewan Theron