Author Interview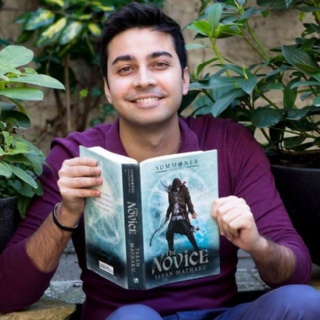 On the Tuesday 4th February, New York Times best-selling author Taran Matharu visited Stopsley and spoke to us about his career. He was first published at 22, and rose to fame with his well-known Summoner series. Taran has been able to go on book tours all over the world, including America and Poland. He has also visited Dubai on a special request from the Prince of Dubai.
What inspired you to become an author?
I've always loved reading, and I think of being an author as reading your perfect book, because you're the one writing it!
How long did it take you to write your first book?
I started writing the book as part of a competition, so I finished the first 2/3 of it in about a month. The last part took a bit longer, around 3 months, because I was actually backpacking around Australia when
I wrote it.
Have you ever based a character on someone you know?
Naturally, I take inspiration from the people around me, but I don't think
I would ever entirely base a character off someone. I often take parts of different people and mix them up, that way you create an entirely different character. There's also a theme in my books of conflict between races, which I have actually experienced in real life.
What did you want to be when you were younger?
I think I've always wanted to write, since I can remember, but I never
thought I would be able to do it full time. I did want to be an archaeologist for a while, back when Jurassic Park came out! I was always writing when I was younger, and I wish WattPad had been a thing back then.
Are there any surprising facts about being an author?
Well, something you might not know is that the author rarely gets to choose the title of the book, it's normally the publishers' job. For me, it's always amazing the things people do to show their support. I've seen some brilliant fan art, received amazing gifts, like some swords a blacksmith in America sent me, and people have even got tattoos of my work!
Have you met any other famous authors?
I've met one of my biggest inspirations, Darren Shurn, when we were both speaking at a conference. I've also met Cressida Cowell, the author of the How To Train Your Dragon books, as we are both published by the same people. I also met Ali A once.
Where do you want to be in five years?
In the next five years, I'd really like to publish another 5 books. In a dream world, I would also have a video game made based on my books, as well as a movie.
By Charlotte Lovelock, Caitlin Botham & Riaz Miah