This Girl Can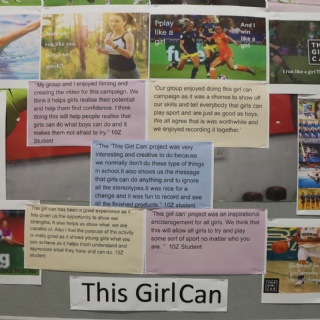 This Girl Can is a National campaign to increase the participation of girls in sport and physical activity.
All Year 10 girls have completed a unit of work covering this recently and have discussed and identified why it is important to overcome barriers that girls may face when participating in sports activities.
Within the unit of work, students have produced a motivational poster as shown in the pictures. They created their own slogans which would inspire girls to take part in sport. In addition to this the students then created a television advert which attempted to break down stereotypes in sport, using a range of media techniques as well as their knowledge of sport.
Well done to all students involved, some great work has been produced for a worthwhile cause.
Here are a few of the students feedback about the unit:
"My group and I enjoyed filming and creating the video for this campaign. We think it helps girls to realise their potential and help them find confidence. I think doing this will help people to realise that girls can do what boys can and they should not be afraid to try."
"This Girl Can project was very interesting and creative to do because we don't normally do these types of things in school. It also shows us the message that girls can do anything and we should ignore all stereotypes. It was a nice change and fun to record and to see everyone's finished products."