Self Belief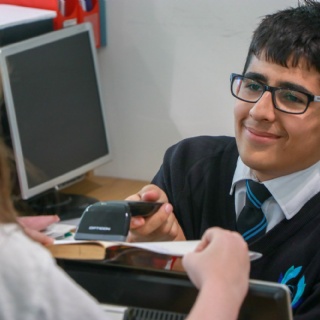 An interview with Dhillon Lalji about how being a student librarian helped him with his confidence.
How has being a student librarian helped you improve your confidence and be who you are today?
When I started being a student librarian in year 7, I was found in the corner of the room, sitting there quietly not really engaging with other people. However, when I was invited to participate in being a student librarian, I had to socialise and help people with their situations. To be honest this did put me out of my comfort zone but I was not worried as I trusted Mrs Reid-Nevard and hoped what she was doing would help me overcome my situation.
What do you enjoy about all of it?
I like the fact that I am able to help students within a familiar environment and that maybe I have an impact on fellow students' lives.
Did you have any support?
I went down a usual route and lost lots of confidence when I was getting complaints saying that I was not good at my job, but Mrs Reid-Nevard (Librarian) continuously reminded me that I was doing an amazing job so I ignored all the negativity and focused on the positive, which gave me a good outcome today.
How do you want to take this experience to help you in the future?
I'm taking this ability to help me with future jobs, so I have the confidence to stand up and say what is needed and possibly make a change in the future.
What are the skills do you think you need to be a student librarian?
To be a librarian you need to be friendly, you need to know a lot of stuff about books, and have a really nice personality. You also need to be interested and interesting to students.
What would you say to help people with confidence issues?
What I would say to fellow students or anyone in general with confidence issues is that they need to believe in themselves even when they think it is impossible to. Try and look forward and see if there is a different way of looking through everything that is going on and just let the waves carry you into the right direction.
Interviewed by Crystal Smith