Royal Academy of Arts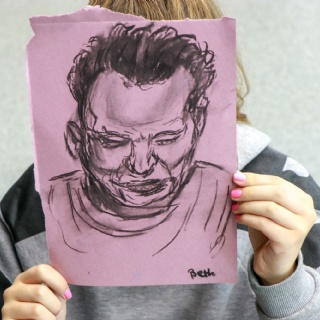 On 27th June, GCSE art students had the chance of a lifetime. The year 10s currently taking Art and the Year 9s hoping to take Art next year were both given this opportunity. Students were working with a visiting artist and model to develop their large scale life-drawing skills. Over the course of the day, the students produced a portfolio of exploratory drawings and approaches to portraiture, including caricature, movement and identity.
Overall, it really was an experience these students will never forget. 23 students took part in the all-day workshop. When I went and visited the students, they were all sat in a circle and the atmosphere was very relaxed. One activity I saw was the artist that came in read a descriptive writing piece and the students had to draw what they heard. When all the work was finished, they analysed each piece and talked as a group; focusing on interpretation and different use of charcoal.
By Kenza Jerbi & Charlotte Lovelock