Coronavirus Update
Important Letters to Parents and Carers
Supporting Children and Young People with anxiety
Free School Meals Letter 24th March 2020
Free School Meals Letter - 23rd March 2020
Information for Keyworkers for Monday 23rd 2020
GOV.uk Press Release on exam results Friday 20th March 2020
Keyworker Update Letter Friday 20th March 2020
Update Y11 Thursday 19th March 2020
Coronavirus Update Thursday 19th March 2020 - School Closure to Most Pupils
Coronavirus Update Wednesday 18th March 2020 - Attendance Arrangements
Coronavirus Update Tuesday 17th March 2020 - Inc Student Absence and Work Information
---
School Status
As of Monday 23rd March, the school is: OPEN FOR Children of Key Workers ONLY
---
Home Learning
As the Coronavirus spreads, our school status may have to change. We consult with PHE about this and follow their guidance only on behalf of the Government. If schools are told to close for a longer period of time, we will follow this guidance. In this instance, work will be provided for the children. The following explains how parents and students can access home learning resources:
Show My Homework for students to work on tasks set by teachers.
RM-Unify is our intranet platform that students should login to, to access all software.
The Wellbeing at Home pack and PIXL links offer guidance for working at home and a variety of activities that can be undertaken.
We aim to provide work that is linked to current learning in class and that parents will be able to support with at home. Some tasks may be differentiated but others may be standard across the class. The work may be discussed with the children on their return to school but may not be marked by teachers. Please note that the school office email address will continue to be active throughout any longer closure.
The links below will take you to key areas for home learning:

---
Information about Coronavirus
We are aware that all families will be concerned about the spread of the Coronavirus across the UK. This page has been provided to give families key information about the Coronavirus and to provide you with regular updates in case the virus continues to spread nationwide.
What is the Coronavirus and what are the symptoms?
Coronavirus (COVID-19) is a type of virus. As a group, coronaviruses are common across the world. COVID-19 is a new strain of coronavirus first identified in Wuhan City, China in January 2020.
The incubation period of COVID-19 is between 2 and 14 days. This means that if a person remains well 14 days after contact with someone with confirmed coronavirus, it is unlikely that they have been infected.
The following symptoms may develop in the 14 days after exposure to someone who has COVID-19 infection:
cough
difficulty in breathing
fever
Generally, these infections can cause more severe symptoms in people with weakened immune systems, older people, and those with long-term conditions like diabetes, cancer and chronic lung disease. There is no evidence that children are more affected than other age groups – very few cases have been reported in children.
Preventing the spread of infection:
The best way to prevent infection is through hygiene. Some general principles that help prevent the spread of respiratory viruses include:
washing your hands often with soap and water
covering your cough or sneeze with a tissue, then throw the tissue in a bin. See Catch it, Bin it, Kill it
use an alcohol-based hand sanitiser that contains at least 60% alcohol if soap and water are not available
avoid touching your eyes, nose, and mouth with unwashed hands
clean and disinfect frequently touched objects and surfaces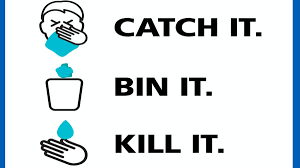 If anyone is worried that they may be showing symptoms, please call NHS 111. Do not go directly to your GP or other healthcare environments. Further information can be gained on the Public Health England Blog and the NHS UK website.
To find out current, up to date information about the spread of the Coronavirus, please visit this link:
https://www.gov.uk/guidance/coronavirus-covid-19-information-for-the-public
Important information:
As a school, we follow Government advice and instruction regarding the Coronavirus. We will regularly update parents about our plans via this website page. If parents have any questions, please do contact us directly via the school office. As a school, we are doing everything that we can to ensure that no infection happens at the school. Children and staff are encouraged regularly to wash their hands throughout the day and full cleaning takes place daily as it should. Disinfectant spray is used on door handles and other objects that are commonly touched. We are continually educating the children about the virus to make them aware but also do not panic the children unnecessarily.