MFL French Trip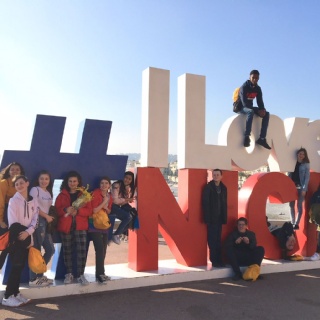 A language trip with a difference.
Our language Trip to Nice and the French Riviera (Monte Carlo, Monaco, Eze Village) is an immersive experience that offers a fantastic opportunity to develop the language skills of our students in a real French educational system. Exposure to new cultures can significantly benefit a child's personal development and school travel exposes students to new experiences they wouldn't usually have access to. Our students will in this context gain broader perspectives and learn to be comfortable in unfamiliar situations.
We have no doubt that this type of trip can be more meaningful for students than the usual family holiday and leisure travel. While they are away from family and friends, students are compelled to step outside their comfort zone. As well as learning in real life situation, students will meet new people, try new foods, travel to local points of interest, and so much more.
A Students Insight
Mrs Young and Mr Gonzalez took a group of MFL students to Nice for a week. This was to help our understanding of the French Language. Every morning we had 3 hours of intensive French Lessons every day and in the afternoon we got free time and we went sightseeing in some amazing places called Castle Hill, Carnaval De Nice and éze.
The opportunities for photos were spectacular. In fact they were so good a group of us were so far behind because we were being "cultural."
This trip has outshone any previous trip because it had vastly improved my vocabulary and then my understanding and appreciation for the language has risen so far up.
I'm so glad I had the opportunity to go on this trip
By Charles Smith