Holocaust Memorial Day Event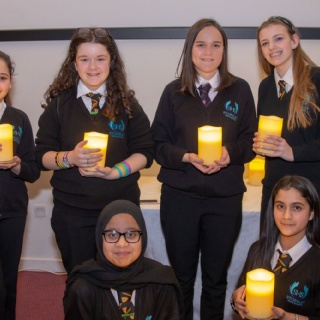 On Thursday 24th January Stopsley students participated in the Holocaust Memorial Day event. Our Anne Frank Ambassadors guided the public through the poignant exhibition about Anne Frank's story and the events of WWII. The hour-long exhibition was followed by the Year 11 drama students' performance, 'Torn from Home'. Throughout the presentation, students shared with the audience the ten stages of genocide.
Praise to the Stopsley Drama Group:
"Your group hits the nail every year. This time they were superb. Great thought and effort had gone into the production and certainly received with much acclaim by the audience" Gerald Fox, Chair of the HND Committee
Audio from BBC 3 Counties Radio interviewing Miss Brodie and the performers.