Year 8 Stopsley High school RadioLab Takeover!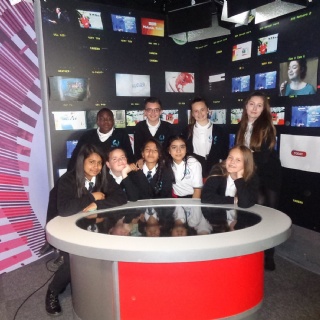 A few lucky Year 8 students took part in a day at the University of Bedfordshire's Radio station (Radio Lab), they had the opportunity to tour the marvellous Luton Campus, as well as learn how a radio show is put together.
Amelia Horsfall, Blake Pinnock, Aimee Christian, Darrell Chamunorwa, Ben Theron, Sanjiada Hossain, Nayma Alam, Karina Varga, Samia Hossain and Paula Ledaine all learned how to prepare radio interviews. They were split into three groups, given some basic background information of three university staff members, asked to devise questions to ask their interviewee and given a state of the art hand held recorder and away they went!!
To add to their radio piece, the students were recorded speaking about themselves and introducing a song (their own choice!!) for their show.
During the day they also had a chance to visit the University's TV Production department, which they found very cool!!
Their radio recordings will be broadcast during the summer holidays and the radio station manager will send Mrs Huggins a copy of the audio to pass onto the students before it airs.
A big thank you to Emma Payne, the university schools co-ordinator, Sidra Iqbal a postgraduate student at the university and Terry Lee, the station manager, who all made the day fun and informative!!
Well done to the students, who represented Stopsley excellently!!
Please refer to THIS LINK for more photos from our gallery.